What Are Cryptocurrency Investigations and Why Are They Necessary?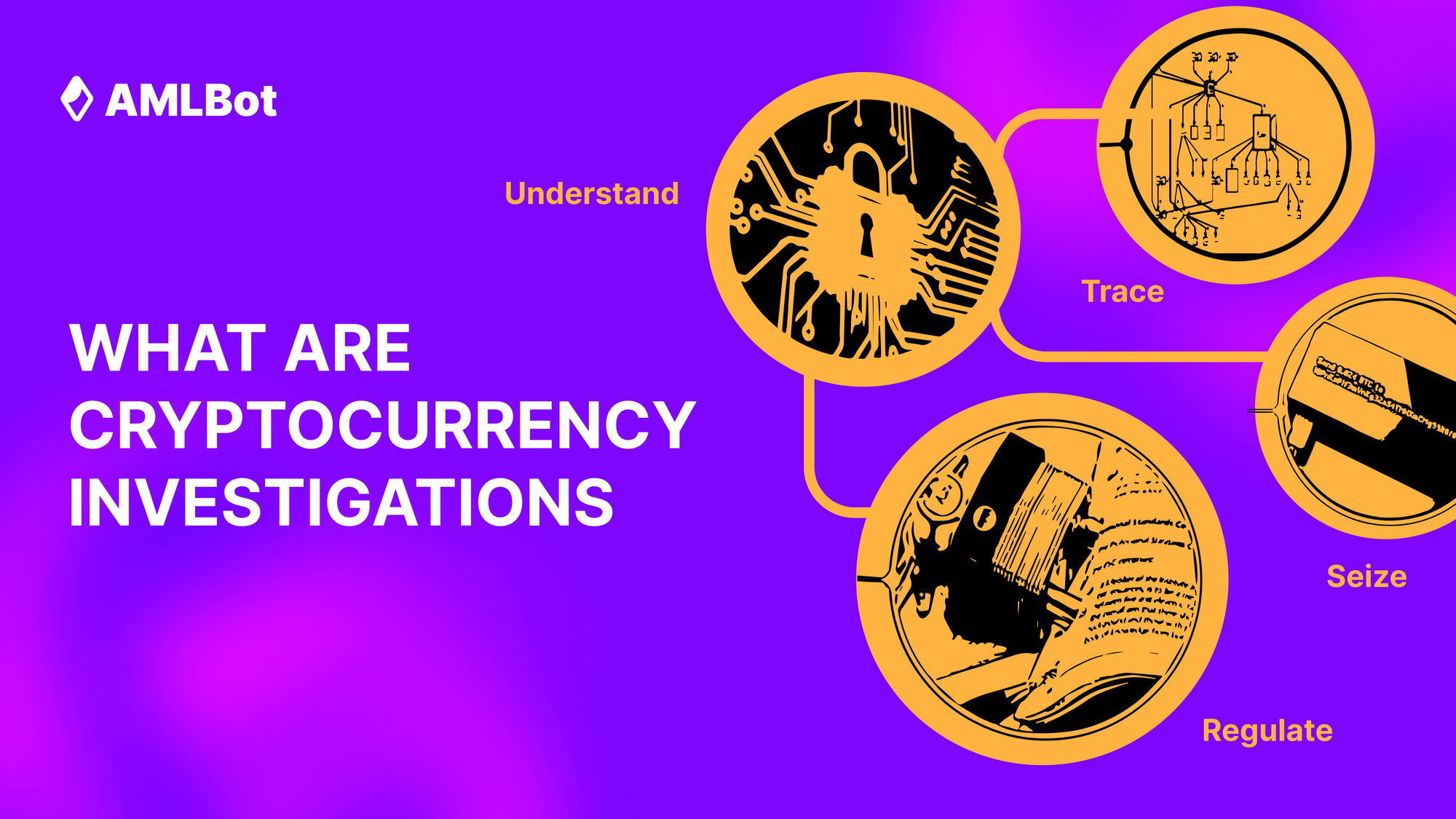 Cryptocurrencies have a prominent role to play in the modern financial world, and crypto investigations are the key to keeping them safe and secure. The use of digital assets is increasingly widespread, with the number of crypto users increasing by 60 million in the second half of 2022, and it has never been more important to protect them.
Cryptocurrency investigators use specialized strategies to track down criminals and achieve crypto recovery, restoring lost funds to their original owners. Whether you're a cryptocurrency investor, private company, or law enforcement officer, crypto investigations are a critical component of halting illicit activity that hurts not only your wallet but also the crypto market as a whole.
Cryptocurrencies and the Potential for Illicit Activities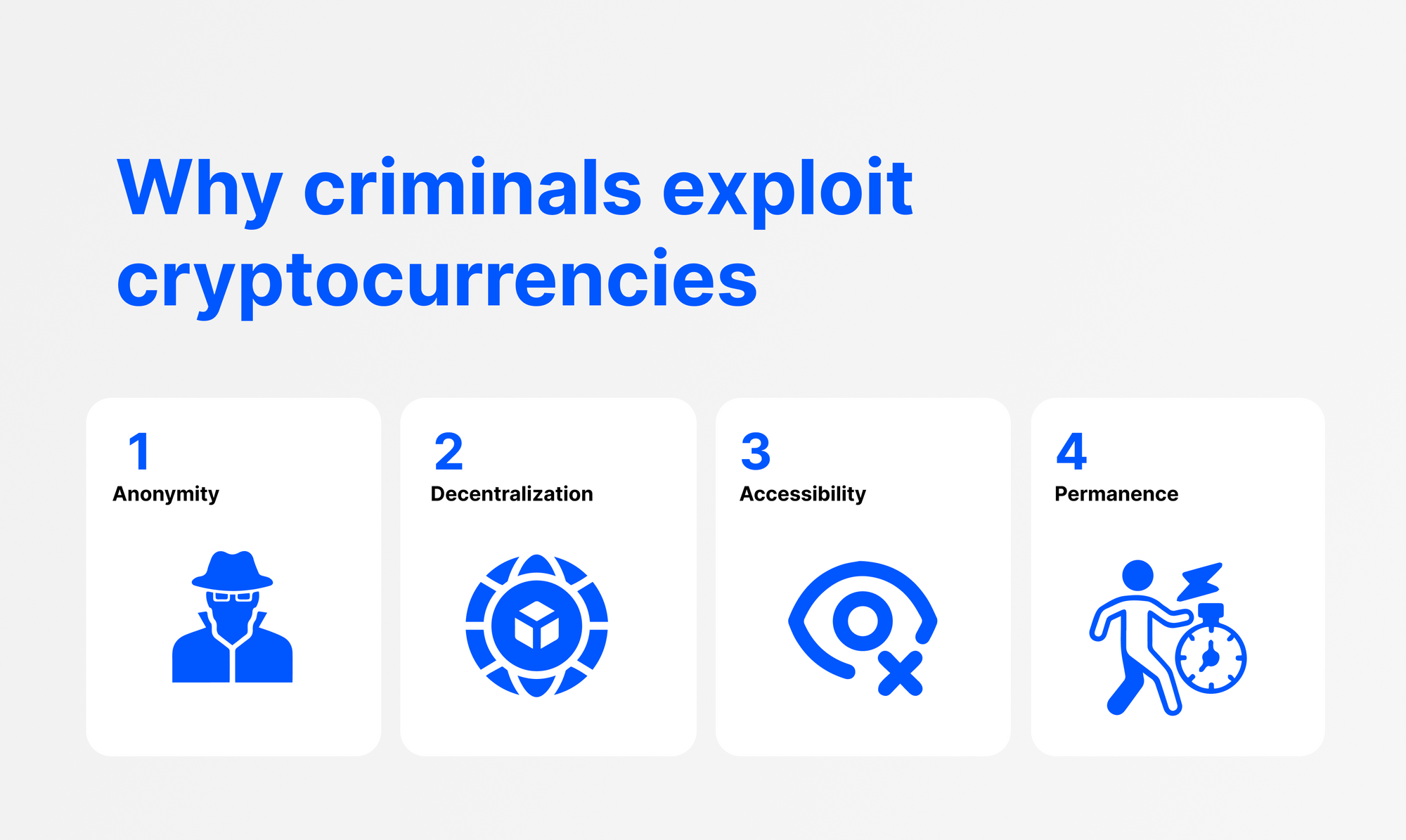 The innovations behind cryptocurrency make it one of the most exciting financial developments in decades, but they can also make transactions vulnerable to exploitation. There are a few reasons why criminals exploit cryptocurrencies:
Anonymity: Although crypto transactions are recorded on a public ledger, they're also anonymous. This makes it easier to hide from the eyes of law enforcement and regulators.
Decentralization: Decentralized crypto exchanges, markets, and bridges are often most vulnerable to attacks. They are not monitored by a central organization or authority, so suspicious activity might go unnoticed.
Accessibility: Crypto transactions are easy, fast, and global. Bad actors can transfer funds across international borders, which is especially appealing to money launderers and traffickers.
Permanence: Cryptocurrency transactions are irreversible. Once a user has authorized a transaction, it can't be canceled or revoked.
Ironically, the characteristics that have led to cryptocurrency's mainstream popularity are the same traits that have exposed digital assets to criminal activity.
What Is a Cryptocurrency Investigation?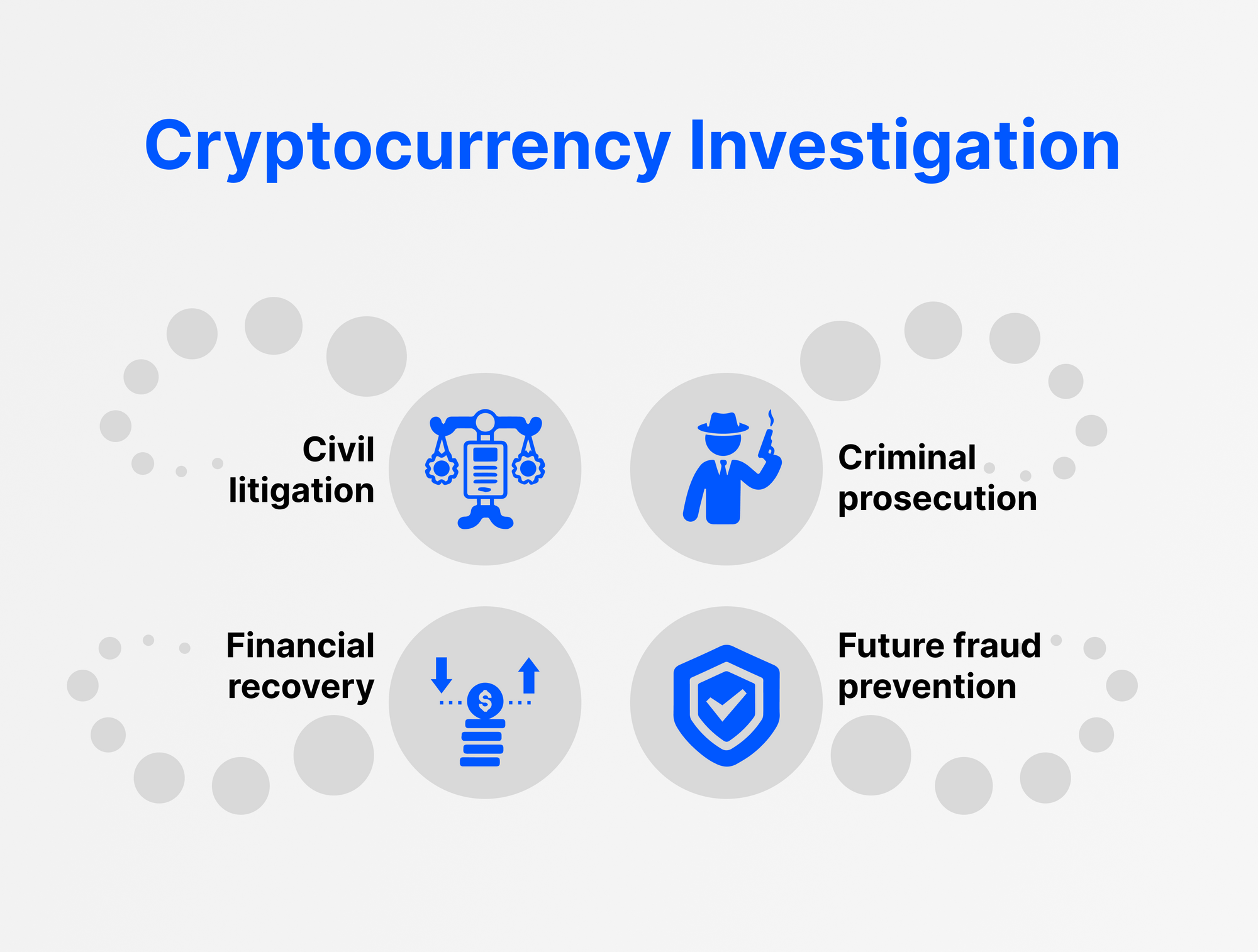 Cryptocurrency investigations are similar in concept to the investigation of crimes related to other payment types. They empower victims and law enforcement agencies to achieve several goals, including:
Criminal prosecution
Financial recovery
Civil litigation
Future fraud prevention
An investigation begins when a user or business suspects that fraudulent activity has occurred and that funds have been compromised. Investigators use tools to collect evidence, trace funds through the blockchain, and try to determine who took them.
Examples of Cryptocurrency-Related Crimes
Crypto crime has received a lot of attention over the past several years as criminals have found new ways to access, steal, transfer, and store illicit funds. Fraud, money laundering, and hacking are very real threats to crypto users, investors, and companies.
Types of Crypto Crimes
Criminals use both novel approaches and time-tested techniques to steal crypto. Some of the most common threats include:
Hacking and theft
Phishing
Fake crypto exchanges and wallets
Investment scams
Rug pulls
Social media scams
According to the Federal Trade Commission, since the beginning of 2021, more than 46,000 people have lost over $1 billion in crypto due to scams, demonstrating the scope and severity of the crypto crime problem.
Cryptocurrency Crimes in Action
Over the past several years, there have been multiple incidences of cryptocurrency fraud and theft that have rocked major businesses around the world. For example, in March 2022, a hacking collective stole $615 million in digital assets from the Ronin Network, the blockchain network behind the game Axie Infinity. Law enforcement experts believe the Lazarus group, a North Korean state-backed hacking group, was responsible for this and other attacks. Since the incident at Ronin, investigators have worked diligently to recover the stolen funds.
Likewise, in September 2022, the crypto market maker Wintermute lost approximately $160 million worth of cryptocurrency to hackers. Experts believe that the attack might have resulted from a compromised private key, a common and worrying vulnerability. While Wintermute remained solvent and survived the attack, it served as another potent reminder of the impact of criminal activity on cryptocurrencies.
The Challenges of Investigating Cryptocurrency Crimes
Investigating financial crimes has always been a mixture of luck, timing, and skill. Just as a police officer tries to chase down a bank robber, investigators search for digital footprints to trace stolen cryptocurrency. However, the virtual nature of crypto presents some specific challenges, including:
Lack of training: Because cryptocurrency is relatively new, many law enforcement agencies, investigators, and regulators are unfamiliar with how it works. Until they receive adequate training in blockchain technology, it will remain a struggle to successfully trace illicit funds and prosecute individuals involved in crypto-related crimes.
Technology requirements: Efficiently and effectively gathering and analyzing blockchain data requires special types of software and technology. Many investigators simply aren't equipped to perform a full-scale investigation at this point.
Location: Because crypto is borderless, it allows criminals to hide behind powerful organizations and governments that don't want to see them prosecuted. Hackers located in Russia and North Korea feel assured that they can steal cryptocurrency without facing repercussions from the local police.
Evolving exchanges: Cryptocurrency exchanges, marketplaces, and wallets are under constant development. Some, such as decentralized exchanges, are especially vulnerable to hacking and fraud.
One of the biggest hurdles for law enforcement agencies is accepting that cryptocurrency crimes are worthy of their time and effort. Fortunately, recent history seems to indicate that law enforcement is taking these crimes seriously. Such was the case when the United States Department of Justice was able to recover $2.3 million worth of bitcoins that Colonial Pipeline paid to the DarkSide ransomware gang.
Techniques Used in Cryptocurrency Investigations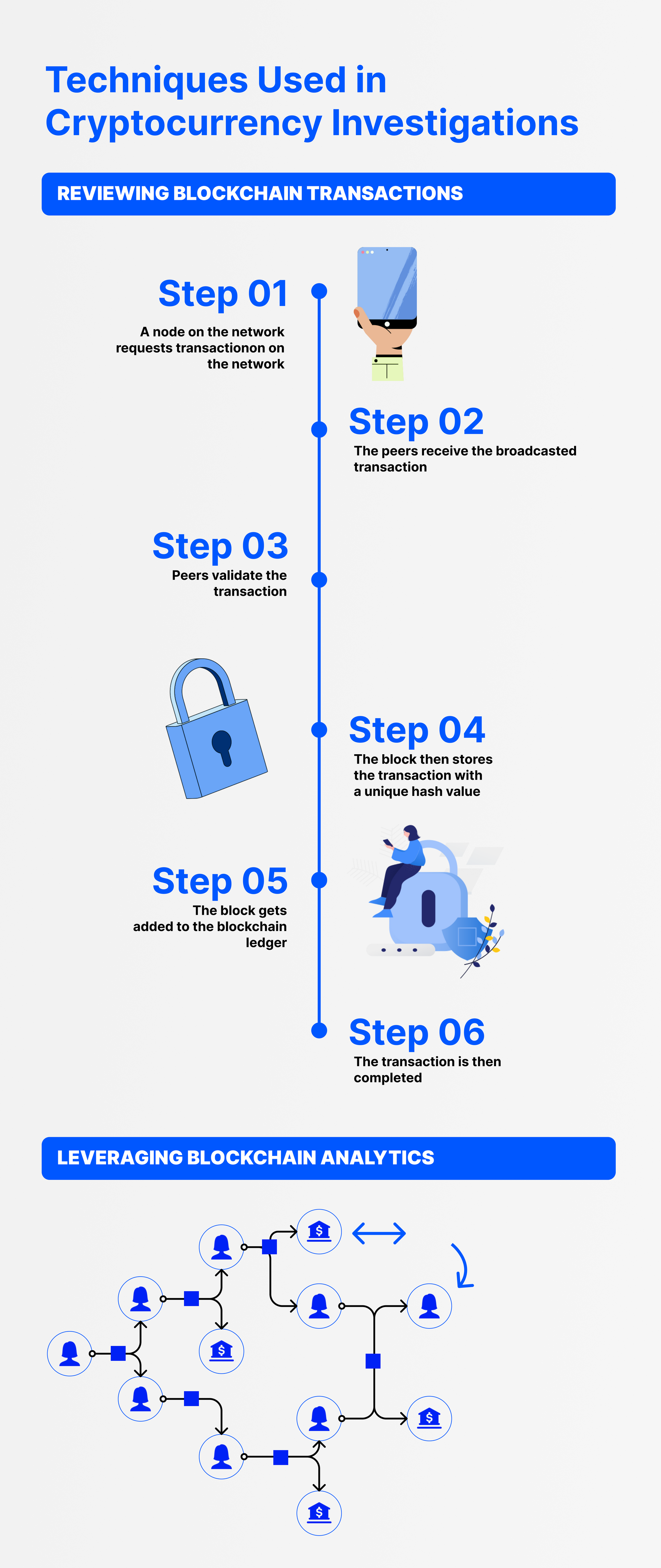 Although cryptocurrency is anonymous, that doesn't necessarily mean it's untraceable. With the right techniques, a capable investigator can trace and recover digital funds from criminals. All crypto transactions are recorded on a public ledger, which provides a treasure trove of data to search, analyze, and categorize.
Reviewing Blockchain Transactions
When an investigation centers around financial fraud related to cryptocurrency, the investigator's first goal is to review blockchain transactions and identify the address with the stolen funds. Although the victim might know the address of the person or organization who received the original payment, criminals rapidly move crypto to new locations. However, each time the crypto is moved, whether to an associate account or professional money laundering group, the information is recorded on the blockchain.
Many crypto companies use Know Your Customer (KYC) checks, which require crypto users to enter personal identifying information like their legal names, addresses, and phone numbers. When investigators are able to trace a transaction back to a particular user, this data, as well as off-chain information from the dark web and social media posts, proves incredibly valuable.
Leveraging Blockchain Analytics
While this makes it seem like conducting a crypto investigation is simple and straightforward, in reality, the data is only useful to a trained and experienced investigator who knows what to look for and how to find it. This process, known as blockchain analysis, is one of the most important strategies available when it comes to crypto tracing and recovery.
During their analysis, investigators group crypto transactions and try to identify signifiers that connect them, in an attempt to reveal the actual identity of the responsible party or organization. This form of data analytics, or blockchain analytics, allows investigators to flag crypto-accounts associated with illicit or suspicious activity.
Who Is Involved in Cryptocurrency Investigations?
Law enforcement departments, financial regulators, and private investigators all take part in crypto investigations. In many cases, law enforcement agencies hire independent investigators who specialize in crypto crimes. The investigator performs the legwork of tracing the funds on the blockchain, while law enforcement procures and issues warrants and subpoenas and conducts searches. When these parties work together, crypto investigations are much more likely to succeed.
Why Hire a Cryptocurrency Private Investigator?
A certified cryptocurrency investigator has up-to-date training in crypto crimes and blockchain technology. This kind of knowledge is useful for many types of situations, including when:
An individual or organization suspects criminal activity, such as theft, fraud, or embezzlement
A business or financial institution needs assistance with maintaining compliance
A law enforcement agency needs support in conducting an investigation
Private investigators are useful not only for recovering lost funds but also for helping to prevent criminal activity from occurring in the first place.
Resources for Crypto Investigations
Crypto transactions are complex, and everyday users or investors have little hope of recovering lost funds on their own. If your cryptocurrency has been compromised, AMLBot has a team of experts who will analyze the event, provide guidance on how to move forward and help you complete paperwork for the police. A crypto investigation is the first step toward reclaiming your stolen cryptocurrency.