"Dirty" cryptocurrencies: what are the risks and how to protect yourself from "dirty" money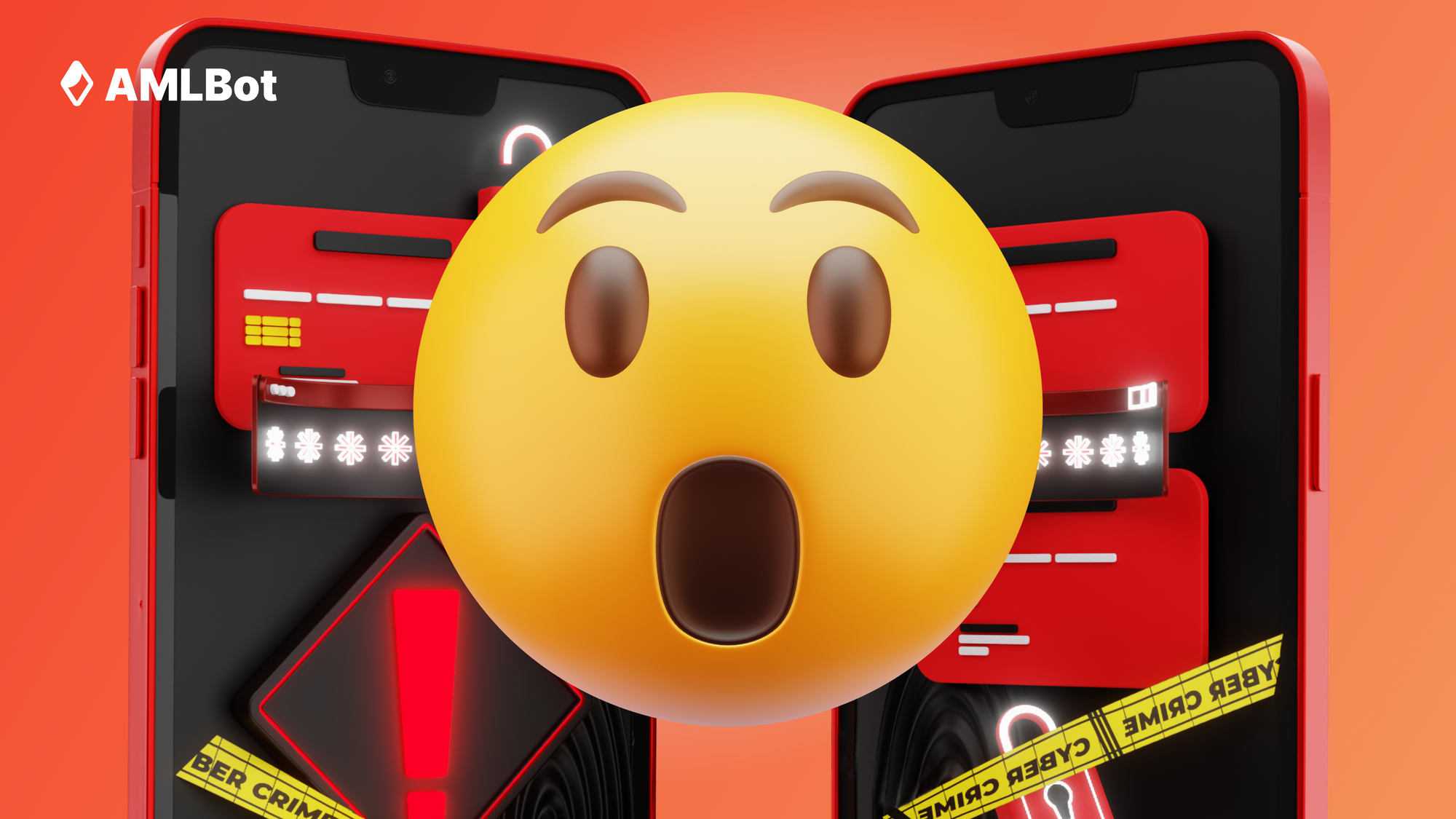 According to the statistics, around 40 % of BTC transactions are illegal. "Dirty" cryptocurrencies are unsafe for their owners even if they are not involved in any illegal operations. In this article, you will get to know what "dirty" cryptocurrencies mean, what risks they can cause, how not to become a victim of money laundering, and how to protect your digital assets from "dirty" cryptocurrency.
What does "dirty" cryptocurrency mean?
Any cryptocurrency can become "dirty" while being involved in any illegal activities. Among the most popular crime activities that make cryptocurrency "dirty", there are:
wallet and crypto hacking attacks;
money laundering activities that intend to convert fiat money to crypto;
scams;
ransom;
purchasing and selling drugs, killings, and other forbidden products or services in the dark market.
There are special AML-services that detect "dirty" cryptocurrency. It can be identified even if you weren't involved in illegal activities. For instance, if your cryptocurrency has gone through the mixer or has come from the unregistered cryptocurrency exchange, it's identified by the AML services as a "dirty" cryptocurrency. These services will help you find out whether your cryptocurrency was involved in illegal activities or not.
What risks are there if you interact with "dirty" cryptocurrency?
Let's consider the most important risks that can appear while not using AML services for your cryptocurrency:
If your cryptocurrency is "dirty", you won't be able to trade it at current market prices. Reputable and trustworthy crypto exchanges using KYC verification won't process transactions with suspicious cryptocurrency. At regulated platforms, your crypto wallet can be banned. To trade "dirty" cryptocurrency, you need to apply P2P platforms or miner exchanges that charge higher fees. Sometimes, "dirty" crypto assets are sold with discounts.
Your account can be banned on the cryptocurrency exchange, as it was mentioned above. According to the new AML-policy regulations, all the regulated cryptocurrency exchanges incorporate KYC policies to identify their customers. Therefore, they have a black list of cryptocurrency wallets. In addition, crypto exchanges use diverse AML-services that trace cryptocurrency transactions and all the addresses where they come from. Before processing suspicious transactions, cryptocurrency exchanges lock crypto wallets and refuse to validate transactions with the cryptocurrency of suspicious origin.
Without providing the cryptocurrency exchange with the information about the source of your suspicious coins, your cryptocurrency will be banned as well as your further transactions won't be processed at this exchange.
If you interact with "dirty" cryptocurrency, this threatens you with high fines. According to AMLD5, cryptocurrency exchanges and wallets that don't meet AML policy regulations need to pay a fine that is around 200000 EUR. You need to pay the fine even if you didn't know that your cryptocurrency was dirty. So, if you want to protect your wallet and cryptocurrency assets, you need to be confident that your crypto funds are pure and aren't involved in money laundering. Any crypto exchange can report information about your crypto wallet to the financial policy. Even if you prove that your cryptocurrency wasn't involved in money laundering activities, your digital assets will be forfeited.
How do the AML services track the dirty cryptocurrency?
The main principles that cryptocurrencies are based on include privacy and anonymity. All the cryptocurrency enthusiasts intend to be anonymous while trading cryptocurrency. However, according to the new AML policy, all cryptocurrency exchanges need to implement KYC verification services that allow identifying the ID of the user. While creating a crypto wallet on the platform, you need to provide your personal information.
In addition, you need to know that BTC is easy to trace. Each transaction can be traced in the network. As usual, transactions of cryptocurrencies can be tracked, except for Monero and Zcash, where all the transactions are anonymous.
To track cryptocurrency transactions, it's necessary to use special software. When it comes to cheap and high-quality transaction monitoring, we need to mention AMLBot service that allows tracking transactions very fast. In addition, you can implement API integration in your business and track transactions in an ongoing way. While using transaction monitoring services, you find out the history of addresses where your cryptocurrency was. If a list of these addresses contains suspicious addresses, including mixers, darknet addresses, unreliable exchanges without KYC verification, etc, the percent of the transaction dirtiness increases.
The involvement of cryptocurrencies in the illegal activities
According to Foley et al. research, around 46 percent of Bitcoin transactions are involved in illegal activities. However, the number of crimes with cryptocurrency is reduced. According to CypherTrace, a general number of cryptocurrency crimes is less during the first ten months of 2020 than in the first ten months of 2019. In 2020, this sum reached $1.8 billion, while for the period in 2019, it was several times more and amounted to $4.5 billion. This sum includes hacking attacks, scams as well as darknet transactions. The biggest percentage of hacks and thefts is on unregulated platforms because of the absence of the KYC procedure allowing the identification of all the customers of the exchange and reducing the percentage of crypto crimes.
In addition, the illegal share of all the cryptocurrency activities fell to just 0.34%, according to the Chainalysis statistics. According to the CipherTrace statistics, this marker is less than 0.5%. We need to mention that Chainalysis and CipherTrace are both industry-leading crypto analytics platforms that help detect fraud and illegal activities in the cryptocurrency world.
According to the 2021 Crypto Crime Report prepared by Chainalysis, while considering the value received by illegal activities on a monthly basis throughout 2020, the biggest sum was in August 2020 and amounted to around $ 600 million.
According to the data from AMLBot, while considering 100 of the richest BTC addresses, 47 of them are considered to be low-risk, 52 addresses are with medium risk, and only one of them is high-risk. 15 addresses contain some coins received from mixers and scam projects.
How to protect your cryptocurrency from "dirty money"?
There are a few reliable ways to protect your cryptocurrency from money laundering, among them:
You should avoid cryptocurrency mixers, cleaners, and other services that help mix your cryptocurrency. The use of such services causes a lack of trust in your crypto assets. If your cryptocurrency didn't come from the darknet and diverse illegal activities, you don't need to use mixers.
Trade cryptocurrencies only on the crypto exchanges that require KYC verification from all the customers. This allows you to trade only with reliable traders and get pure cryptocurrency.
Divide your crypto assets into two separate wallets for "clean" and "dirty" cryptocurrency. In the first one, you will store crypto assets that come from reliable business sources, crypto exchanges that use KYC verification, mining pools, etc. The second one will contain crypto assets that come from suspicious sources, including unregulated crypto exchanges without KYC verification, gaming and gambling websites, mixers, illegal services, dark services, and much more.
One of the most reliable ways to protect your crypto assets from "dirty" money is to use tracking software that allows you to monitor transactions and look through all the addresses where your crypto assets were before coming to your wallet. Among the most popular services that help you track your transactions, we can emphasize Coinfirm, Chainalysis, Elliptic, CipherTrace, ScoreChain, AMLBot, and others.
In conclusion, in order to be confident in the pureness of your crypto assets, you need to avoid exchanges without KYC verification, purchase cryptocurrency at reliable platforms, avoid mixers, gaming, and gambling websites, darknet services, and create two crypto wallets for assets coming from reliable sources and unreliable sources. However, one of the most reliable ways to protect your crypto assets is to use tracking software allowing you to find out all the addresses where your cryptocurrency was.