How to Open a Financial Institution Account at Binance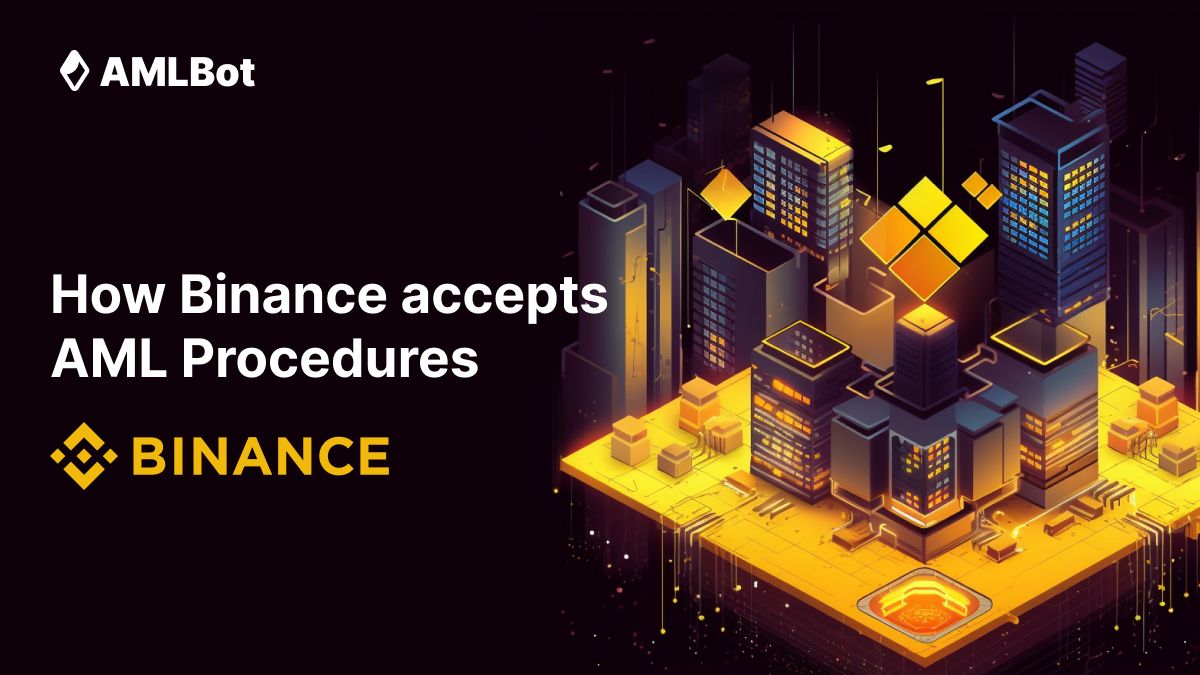 How to Open a Financial Institution Account at Binance If You Are a Crypto Business
In the world of cryptocurrency and blockchain, ensuring compliance with Anti-Money Laundering (AML) regulations is crucial for businesses to maintain trust and transparency. Recently, our client, a company offering exchange and broker services that covers 3 % of the EU market, encountered a challenge while opening an account at Binance. This article will describe what needs to be done to successfully open such an account and how AMLBot can assist crypto businesses in this matter.
The Client's Challenge:
Our client recognized the need to have an account with Binance to facilitate crypto-to-crypto and fiat currency exchanges. However, as part of Binance's rigorous AML compliance process, they were required to submit internal AML procedures tailored to their specific business model. Binance also provided an extensive AML questionnaire that needed to be completed accurately and comprehensively.
Therefore, two key documents that need to be submitted to Binance are:
AML Questionnaire

AML Procedure

.
The AMLBot Assistance with AML Procedure:
Understanding the complexities and importance of AML procedures that shall be based on international standards and local regulations, our client sought the expertise of AMLBot lawyers. It is crucial to implement such procedures to run crypto businesses following the laws to avoid being fined or sanctioned by local law enforcement bodies.
Actions taken by our Legal Department:
The Legal Department, headed by Nico Demchuk, organized the call with the client to go through the AML Procedure and explain how it shall be implemented in practice.
Recognizing the specific nature of our client's business model, we helped the client draft AML procedures that were tailored to their operations.
Our experts conducted research and analysis to ensure that the procedures effectively addressed the risks associated with their business activities.
Throughout the process, we maintained clear and open lines of communication with the client, seeking their input and feedback to refine the procedures further.
Completing the AML Questionnaire of Binance:
Binance, like any other CEX, sends its clients AML Questionnaire which is a comprehensive document that requires meticulous attention to detail. Our experts that include lawyers and ex-auditors provided guidance and support in completing theAML questionnaire to ensure compliance with Binance's standards.
Concluding part
Ensuring compliance with AML regulations is extremely important for businesses operating in the cryptocurrency space. The complexities of AML procedures, which must align with international standards and local regulations, require specialized expertise. Failing to implement robust AML procedures can result in severe consequences, such as fines and sanctions imposed by law enforcement bodies.
When opening a financial institution account at Binance, crypto businesses must navigate a rigorous AML compliance process. It involves submitting internal AML procedures tailored to the specific business model and completing an extensive AML questionnaire. Engaging the services of experts, such as AMLBot's legal team, can significantly alleviate the burden and mitigate risks associated with AML compliance.
---