Introducing Updated B2B Packages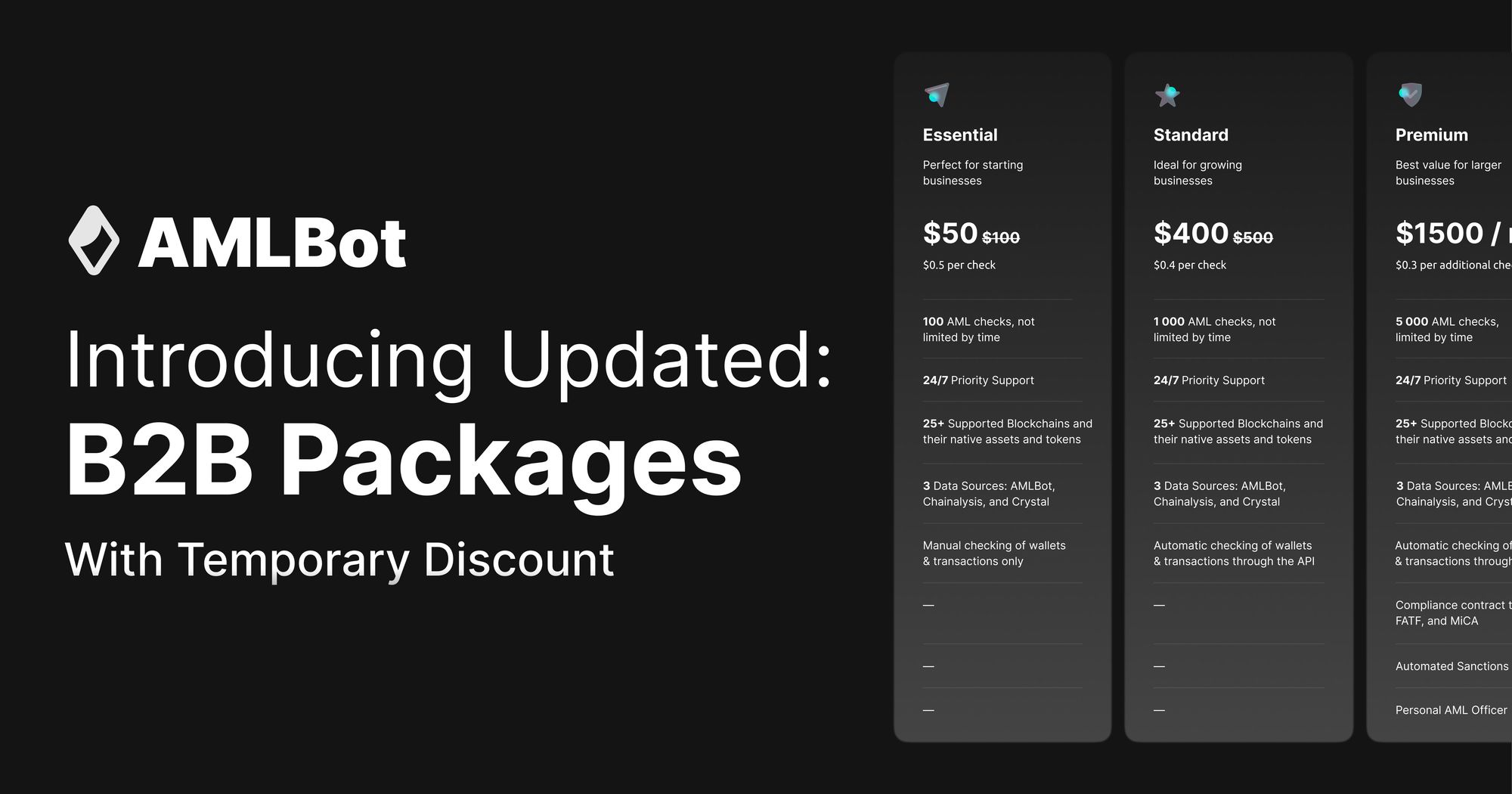 As the new year approaches, AMLBot is pleased to announce updates to our business packages. These updates are designed to assist businesses in staying compliant and efficiently tracking transactions, ensuring that they have the tools they need to succeed in the coming year.
---
Transition to Subscription Model
The Premium Plan, which offers the most comprehensive set of features, is available for annual billing only, allowing businesses to take advantage of our expert team and extensive services that are not offered in the other packages.
In the event that a business runs out of checks during their Premium plan, they will be charged for each additional check as needed. This allows businesses to continue monitoring their transactions and assessing risk without interruptions, ensuring that they have the tools they need to stay compliant and protect their bottom line.
It's important to note that the transition to a subscription model applies only to the Premium Plan. Our Essential and Standard packages remain on the one-time purchase model. Regardless of the package chosen, businesses can trust that AMLBot will provide them with the tools and resources they need.
---
Enhanced Premium Package
The Premium package has been enhanced with the addition of Automated Sanctions Screening, a valuable tool that helps businesses stay up-to-date with the latest regulations and avoid potential fines and penalties. This feature is particularly useful for businesses operating in industries with strict compliance requirements.
In addition to Automated Sanctions Screening, our Premium package will soon include Blockchain Analytics Tools for comprehensive investigations. This feature will allow businesses to delve deeper into the details of their transactions, providing a more comprehensive view of any potential risks.
The Premium Plan has also received a significant boost, with the number of AML checks increasing from 2,000 to 5,000. This 2.5x increase means that businesses can more effectively monitor their transactions and assess risk, without worrying about running out of checks.
---
Multiple Data Sources
Our system now also allows for simultaneous checking of transactions using three data sources - AMLBot's internal database, Crystal Blockchain, and Chainalysis. This ensures that businesses have access to the most up-to-date information when assessing transaction risk, providing the most accurate risk score possible.
The integration of Chainalysis into our system has enabled us to offer a significantly larger number of blockchains to our customers. This will provide businesses with access to a wider range of blockchains, allowing them to more effectively track transactions and assess risk.
---
Temporary Discount
To celebrate these updates, we are offering a temporary discount of 20-50% on our Essential and Standard packages until 01.01.2023. If your business is interested in one of our packages, this is a great opportunity to take advantage of the discounted pricing and access these valuable new features.
---
Closing Remarks
As we look ahead to the new year, we at AMLBot are committed to helping you succeed. We are grateful for the opportunity to work with you and look forward to a continued partnership in the coming year.
Happy Holidays from all of us at AMLBot!