How to Get a Crypto License for Your Business: A Complete Guide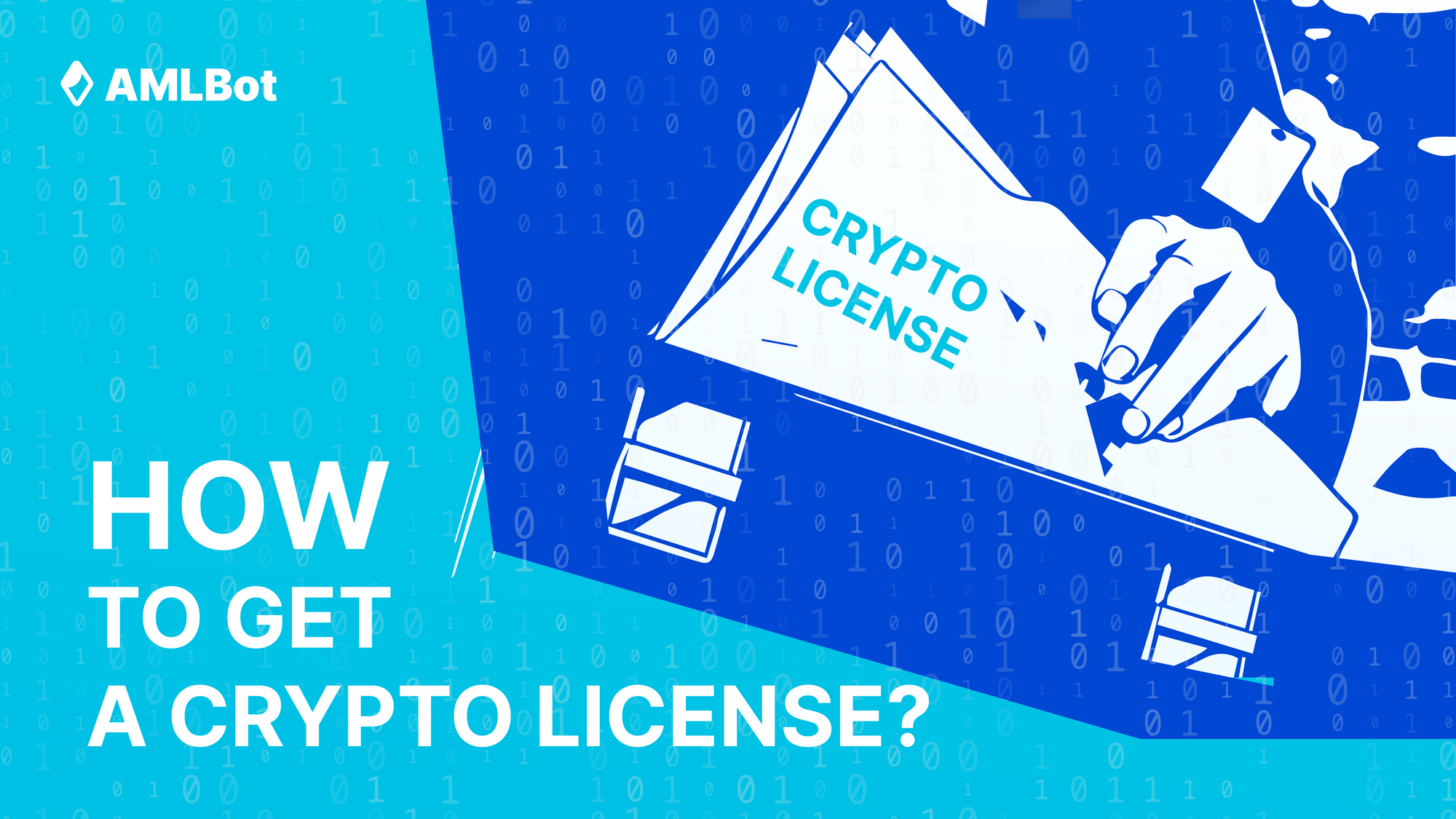 In the face of unclear regulations and shifting legislation, obtaining a crypto license may seem daunting. Although there may be challenges involved, applying for a license is a vital step to ensuring that your company complies with national or state requirements, operates legally in your jurisdiction, and earns the loyalty of your customer base. Keep reading to learn more about crypto licenses and how to submit an application for your business.
What Is a Crypto License?
A cryptocurrency license allows companies to legally facilitate cryptocurrency transactions, including exchanges, transfers, and trades. While it's similar to a business license because it allows the company to operate within a particular jurisdiction, a crypto license focuses specifically on activities related to virtual assets, including Bitcoin, Ethereum, and other forms of crypto. Understanding how crypto licenses work is essential for businesses that want to avoid regulatory penalties or, in the worst case, permanent closures.
Who Oversees Crypto Licenses?
In most countries, regulatory agencies oversee the cryptocurrency industry, but regulations are in various stages of development worldwide. Some countries have national policies, while others defer to the decisions of states or provinces.
For example, the Security and Exchange Commission (SEC) oversees cryptocurrencies that qualify as securities in the United States. In those cases, the crypto developers must register with the SEC. Licensing requirements for other types of cryptocurrency activity currently fall under the discretion of each state. Still, recent history and the words of the SEC chair indicate a shift toward giving the agency more control.
What Are the Requirements for a Crypto License?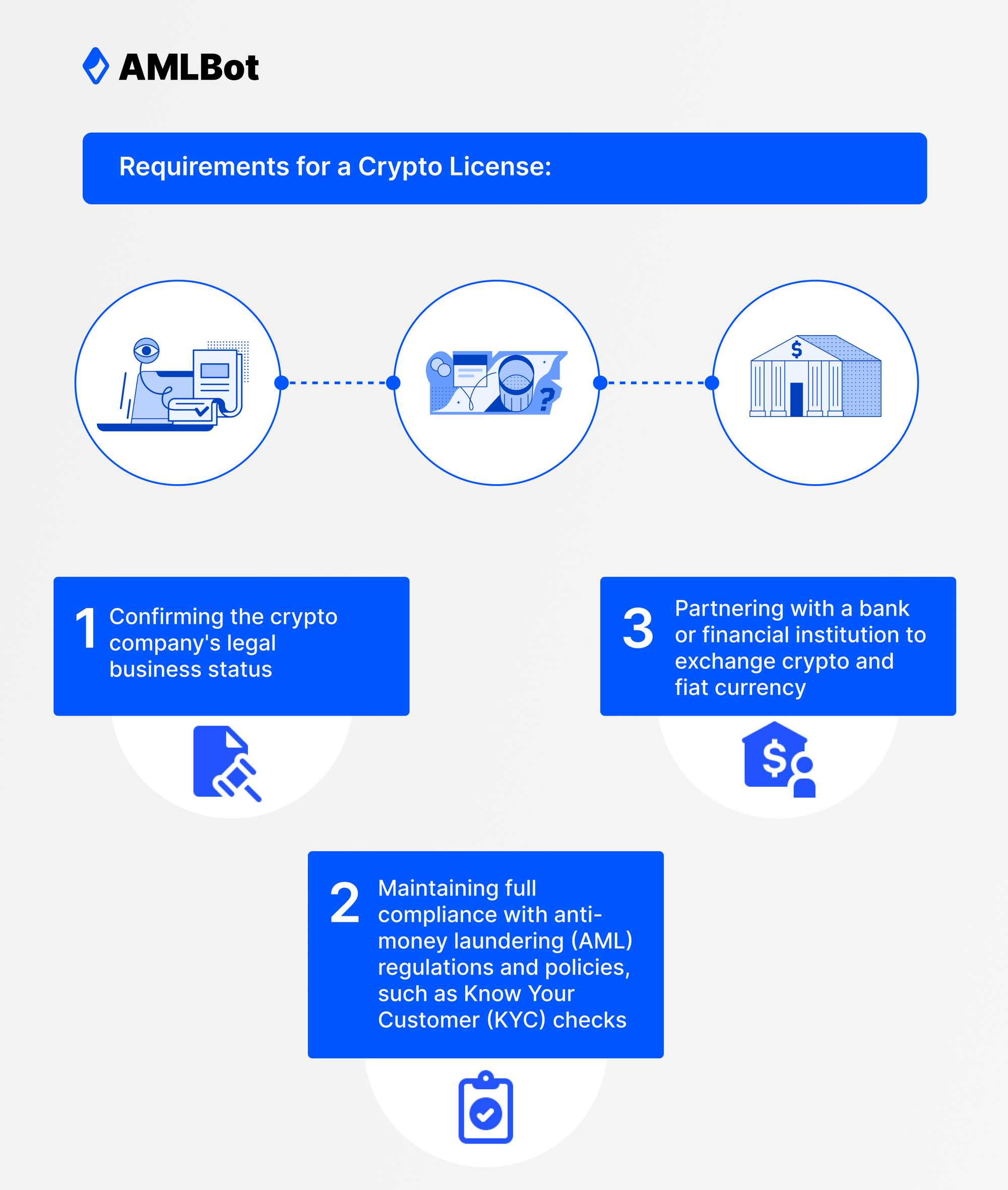 Each regulatory body has its own set of licensing requirements. In general, the criteria include the following:
Confirming the crypto company's legal business status
Maintaining full compliance with anti-money laundering (AML) regulations and policies, such as Know Your Customer (KYC) checks
Partnering with a bank or financial institution to exchange crypto and fiat currency
Crypto regulations are still evolving, so it's essential for businesses that deal with digital assets to closely monitor changes in policies and legislation and ensure that they have met all licensing requirements.
Why Do Crypto Companies Need to Get a License?
A license allows companies that deal in cryptocurrency transactions to operate legally. Although obtaining a license may require an investment of time and money, it's beneficial on multiple fronts.
Oversight
In the early days of crypto, government agencies had no regulations, and exchanges did not have to register. As the market has grown and become more widely accepted, regulators have implemented stricter oversight measures, many of which involve licensing procedures that limit crypto operations exclusively to authorized companies. Crypto businesses sometimes view regulations as a hindrance, but experts believe they have the power to create a safer and more stable marketplace.
Customer Trust
Government involvement may go against the nature of cryptocurrencies, but it also empowers regulatory bodies to offer more robust protection for registered businesses. Law enforcement can investigate fraud and criminal activity more effectively and help recover lost funds. This, in turn, gives customers greater trust in crypto exchanges and wallet providers. Customers can feel more confident about their investments when they know that their virtual assets are in the hands of a licensed service provider.
Types of Cryptocurrency Licenses
The kind of crypto license your business needs depends on your services. There are two common types of licenses available:
Cryptocurrency Exchange License: A cryptocurrency exchange is a platform that enables customers to buy, sell, and trade digital assets. Businesses that provide these services must apply for a cryptocurrency exchange license, allowing the company to provide exchange services to their customers legally.
Cryptocurrency Wallet License: Crypto customers can store the keys for their digital assets in a cryptocurrency wallet. When businesses offer crypto storage services, they need a cryptocurrency wallet license.
The process to receive a license is generally the same regardless of whether you operate as an exchange or a wallet provider.
A Step-by-Step Guide to Getting a Crypto License
Applying for any financial license can feel overwhelming, especially for crypto companies that often face unclear policies and regulations. Every business should closely review the national or state requirements for licensure, but the process generally includes the following steps:
Select your jurisdiction: Your jurisdiction may be based on where your business is headquartered or where your customers are. Once you have determined your jurisdiction, you can get a clearer picture of the requirements for licensing and operations.
Register as a legal entity: If you still need to do so, you will need to establish your business as a legal entity and receive the corresponding documentation. Confirm whether the crypto licensing procedure in your jurisdiction requires companies to register as a particular type of organization, such as a limited liability company (LLC).
Open a company bank account: Locate a reputable financial institution and open a bank account for your crypto company. Deposit the minimum required capital to meet the requirements for your cryptocurrency license.
Establish compliance policies: Make sure that you have documented AML policies in place and that you have appointed an official compliance officer.
Gather appropriate documents: A license application typically involves submitting a substantial amount of paperwork, including your insurance policies, business plan, AML policies, and financial statements.
Meet requirements for economic substance: Many regulatory agencies require crypto businesses to prove their financial viability by showing that they have a certain amount of paid-up capital.
Please submit your application and pay licensing fees: After carefully reviewing your license application and documentation for errors, submit it with any required licensing fees. Regulators may ask you to appear for an interview before issuing your license approval.
As you await a response from regulators, keep in mind that the process can take a few weeks to several months, depending on where your business operates.
Countries that Allow Licensing of Crypto Businesses
Not all countries have consistent crypto licensing procedures, which can make the process more challenging for businesses. On the other hand, some crypto-friendly countries have established clear guidelines that are incredibly welcoming to crypto exchanges and wallet providers.
Canada
Canadian crypto companies are subject to federal and state tax requirements. In Canada, the Financial Transaction Analysis Center of Canada, better known as FinTRAC, provides oversight for crypto activity. To operate legally, exchanges must apply for a Money Services Business license and register with FinTRAC.
Estonia
Regulators in Estonia updated their existing crypto policies for better oversight and issued the first license under the updated requirements in 2022. The Estonian Financial Intelligence Unit (FIU) issues special permits for crypto companies to conduct business with digital assets. Licensing requirements include a minimum level of capital and dedicated compliance officers.
Lithuania
Lithuania has national legislation in place to govern how cryptocurrency companies operate. Under the authority of the Ministry of Finance, crypto businesses must form an LLC to provide exchange or wallet services, join an official registry of crypto companies, and have an exclusive AML officer. A company that offers exchange and wallet services can legally apply for and hold both authorizations simultaneously.
Malta
Any organization that wants to offer services for virtual financial assets must obtain a license from the Malta Financial Services Authority. The company must have a physical office with at least three employees, proof of experience, and technical resources to receive a license. Malta also has national cryptocurrency legislation in place.
Poland
Poland introduced its updated crypto regulations in 2021 after amending its AML laws, which fall under the oversight of the Polish Financial Supervision Authority. The revised regulations require crypto companies within the country to become licensed or registered within their states. They must also appear on the register of the National Tax Service.
UK
As of January 2020, companies hoping to provide crypto services in the UK must register with the Financial Conduct Authority (FCA). To become licensed, crypto businesses must have open bank accounts for operations and cryptocurrency transactions and comply with all AML legislation. Businesses must also provide detailed documentation, including a risk assessment, a business plan, and AML/KYC policies.
Simplifying the Process of Getting a Crypto License
Obtaining a license is crucial to setting up a successful crypto company. From gathering documents to reviewing compliance requirements, successfully applying for a license takes time, effort, and understanding of the laws and regulations in your jurisdiction. AMLBot offers crypto compliance consulting services for businesses that need guidance in opening bank accounts, drafting policies, and following licensing procedures. Schedule a free consultation with the team of crypto experts at AMLBot to learn more.